Don't just take it from us – see what our satisfied customers have to say about our tiny homes.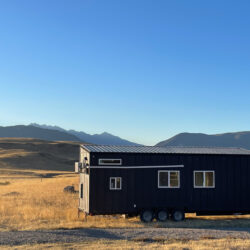 Working with Cody, Rick, and Jeremy to build my custom-made tiny home was quite literally a dream come true. Not only are they the only certified builders in the state of Montana but their expert craftsmanship is next to none. They made the process of building easy and an absolute blast. They let me have full reign over design decisions, but if I did not know what I wanted, they offered amazing and fantastic suggestions. They delivered my tiny two months ahead of schedule but gladly kept it for me until I found a place for it to land. I'm already working on tiny #2 with them. These guys are gems. Not only are they some of the kindest and most pleasant guys to work with but everyone that comes into my home remarks on how beautiful my home is. When I wake up in the morning and look down from my sleeping loft, I find the most beautiful space of solitude I could have ever imagined. I cannot recommend this crew more to build you the incredible living space of your dreams!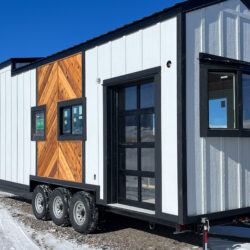 I can't speak highly enough about these guys! Cody and his crew built my, not so tiny, tiny home on wheels. I had a number of needs and requests and these guys did it all! On top of that the craftsmanship is breathtaking. I've had friends who are builders, electricians, and plumbers all say they are beyond impressed with the work they did to this house. One even said, "Walking up to your house, I could tell automatically these guys knew what they were doing." Then he saw inside and was just floored by their work. They put so much detail into the home. Every line, lines up with the next. It is just amazing. We've been in it for 2 weeks now and are just madly in love. A couple requests were a downstairs bedroom and two full lofts (one closed in and as sound proof as possible). We've tested it and even with my son's music way up I cannot hear it! I wanted a soaker tub and they made it happen!!! I wanted a dish rack above the sink and they custom made one…the list goes on and on. Hands down amazing to work with. Thank you so much for my dream, forever home!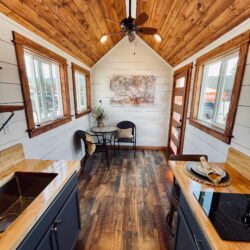 We have been so impressed with Woodland Ridge Tiny Homes. From our first meetings with Cody and Rick, they have been amazing partners. They were inclusive and flexible through the design process. They offered access and great communication throughout the building process. The quality of their craftsmanship, attention to detail and finished product are superior. Our future plans absolutely include doing more business with Woodland Ridge. We have enjoyed the entire process with them and we're happy to have made some new friends along the way.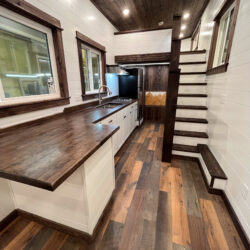 Cody and crew build amazing homes to your specifications. They miss nothing! The quality and attention to detail are over the top.